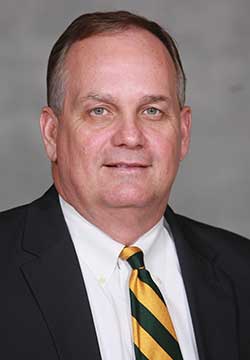 Jay Ladner will look to continue the building process at Southeastern as he enters his third season as head coach of the Lions in 2016-17.
Ladner led Southeastern to a three-game improvement in his second season in 2015-16. Southeastern won eight of its final 11 regular season games to finish 12-21 overall and 9-9 in Southland Conference play, its best league mark since the 2012-13 season. The Lions also won their first conference tournament game since that season when they defeated New Orleans, 84-74, in the first round.
Guard Zay Jackson was selected third-team All-Conference while forward Jordan Capps made the All-Tournament team.
In his first season at Southeastern, Ladner guided the Lions through a grinding schedule to a 9-23 overall record (6-12 Southland) and back to the Southland Tournament for the third year straight year. Four Lions averaged double-digit points while Jackson and DeVonte Upson were honorable selection All-Conference.
Fresh off a junior college national championship at Jones County Junior College in Ellisville, Miss., Ladner was named the 12th head coach in the history of the men's basketball program at Southeastern on April 10, 2014.
Ladner spent the previous two seasons as head coach at Jones County. The Bobcats were 17-8 in his first season, finishing second in the MACJC's South Division, and during the 2013-14 season Jones County became the first Mississippi junior college to win a national championship.
Eleventh-seeded Jones County, which set a school record for wins after finishing the season 28-5, became the lowest-seeded school to win a NJCAA basketball title in any division and the first school in tournament history to win five games in five days to win the championship.
To grab the NJCAA Division I title, Ladner's squad defeated, in succession, No. 22-seeded Highland College (Ill.), No. 6-seeded Hill College (Texas), No. 3-seeded Chipola College (Fla.), No. 2-seeded Vincennes College (Ind.) and top-seeded Indian Hills Community College, 87-77.
Ladner spent the 2011-12 season as head coach at his alma mater, Oak Grove High School, in Hattiesburg, Miss.
Prior to taking the reins at his alma mater, Ladner spent the first 20 seasons of his career as the head coach at St. Stanislaus College in Bay St. Louis, Miss.
He led the Rockachaws to the 2011 MHSAA 4A state championship and a state runner-up finish in 2010. Following the state title, Ladner was named the Mississippi Association of Coaches (MAC) Coach of the Year. During his tenure, the Hattiesburg, Miss., native coached St. Stanislaus to 10 state tournament appearances.
Three times Ladner was named South Mississippi Coach of the Year by the Biloxi Sun-Herald. He served as head coach of the Mississippi squad in the 2010 Alabama/Mississippi All-Star Game, leading his squad to a 114-88 victory.
Ladner compiled a 511-189 high school coaching record.
A member of Southern Mississippi's 1987 NIT Championship team, Ladner received his bachelor's degree in pre-medicine/biology, with a minor in chemistry, from Southern Miss in 1988. He received his master's degree in educational administration from Southern Miss in 1999.
Ladner and wife Jennifer have two children, Chelsea and Luke.