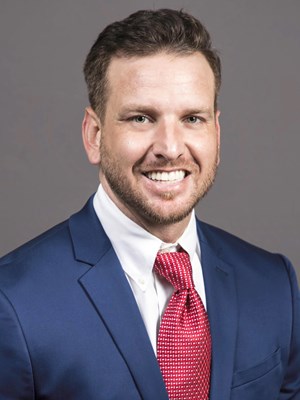 ANTHONY WINCHESTER
Video Coordinator
Southern Miss men's basketball head coach Jay Ladner announced in May 2019 that former WKU and professional standout Anthony Winchester has joined his inaugural staff as the video coordinator.
"Excitement can't aptly describe my feelings about getting Anthony to campus," Ladner said. "He was an outstanding player at Western Kentucky and had a great pro career. As he embarks on a coaching career, he has great experience from his previous stops and has an exciting wealth of talent that he brings to our staff. I'm happy and anxious for him to get started."
Winchester spent the 2018-19 season at Loyola Marymount, helping the squad to a 22-12 record that included a win over Georgetown in Jamaica. He previously had a successful playing career in Spain and Puerto Rico, and a coaching stop at his alma mater, WKU, where he served as a Graduate Intern and Director of Basketball Operations.
"It's a great opportunity to be here at Southern Miss," Winchester said. "I'm looking forward to helping in any way I can. Big things are ahead for Coach Ladner and Southern Miss, and I'm excited and anxious to be a part of his first staff here."
His responsibilities with the Hilltoppers from 2008-2010 included Video Coordinator, assisting with scouting of opponents, assisting with player development and mentoring of student athletes, overseeing and coordinating all recruiting official visits, and assisting in all aspects of day to day operations. The 2008-09 team won the Sun Belt regular season and the conference tournament, and advanced to the second round of the NCAA Tournament after defeating Illinois to open March Madness. His time working at WKU came while recovering from a back injury, between his time playing professionally overseas.
In 2007-2008, Winchester played in Spain for Melilla Baloncesto in the LEB Gold Division, and averaged a team high 12.8 ppg and was twice named Player of the Month. In 2012-2013, he played in Spain for CB Breogan Lugo in the LEB Gold Division and averaged a team high 15.3 ppg leading to being named Guard of the Year. He averaged 10.2 points per game in Spain for Gipuzkoa Basket in the ACB (Spanish 1st Division) in 2014-15, which is considered one of the best leagues in Europe. Winchester finished his professional career playing in Spain's 1st Division, ACB, known as the second-best league in the world.
Winchester put together a decorated career as an undergrad with the Hilltoppers, beginning with his 2003 Sun Belt Conference Freshman of the Year Award and concluding with the 2006 Sun Belt Conference Player of the Year and Associated Press Honorable Mention All-American honors as a senior. His 1,732 career points rank eighth in WKU history, and his 247 career three-pointers are second in program history, leading Winchester to a selection to Western Kentucky's Men's Basketball Centennial Team (1906-2006). Winchester played in three postseasons with the Hilltoppers: The 2003 NCAA Tournament with his Sun Belt regular season and tournament championship team, the 2005 NIT where they advanced to the second round, and the 2006 NIT after winning another Sun Belt regular season title and reaching the conference title game before losing to eventual champion South Carolina.
Winchester graduated with a Bachelor of Arts degree from WKU in 2006.
A standout prep star, Winchester was the 2002 Indiana Mr. Basketball Runner-Up after finishing his career with 2,256 points, which ranks 11th all-time in Indiana history. His 34.7 points per game and 13.5 points per game as a senior led Austin High School (Austin, Indiana) to the 2002 2A Final Four and Mid-Southern Conference Champions.